5 Common Eyeliner mistakes
5 Common Eyeliner mistakes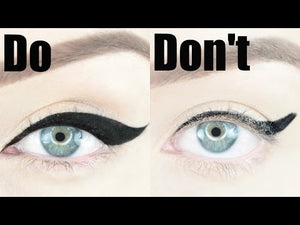 5 Common Eyeliner mistakes
Eyeliner is by far the be best product to use for adding instant definition to your eyes. But most people have a hard time using it. Here are five common mistakes to avoid looking like a hot mess.
Rounded wings
Creating a perfect wing is perhaps one of the hardest skills to master. You can go thick or thin, but either way you have to go pointy at the end. The beauty of the winged liner look is the sharp, neat point, so why would you leave it rounded? 
Try using a thin, felt tip liquid liner to create a delicate line. If you mess up you can always use a makeup remover wipe to gently clean up and sharpen the edge.
(picture by Stephanie Lange)
Messy application 
This one may seem obvious but you'll be surprised by how many people make this mistake. Uneven, smudged and splotchy liner looks plain sloppy. Wearing messy eyeliner is like walking around with a huge salsa stain on your white shirt, you just wouldn't do it!
The easiest way to avoid this issue is to use pencil liner instead or liquid. Liquid liner requires a lot more precision as opposed to pencil liner, which you can always blend out. That being said, using pencil liner runs the risk of looking clumpy, like a crayon roughly dragged over paper. If you're running late for work in the morning it's best if you just skip the liner altogether, because trust me, people will notice when it's messy.
(picture by Sydney Serena) 
Eyeliner on just the lower lash line
This is one of the worst and sadly, most common mistakes you can make. Applying eyeliner to the lower lash line only makes your eyes look smaller, droopy, and tired. You're essentially drawing on more under eye circles!
Try to only apply eyeliner on the lower lash line when you have it on the upper lash line as well. And even then make sure to blend it out with a corresponding shadow and NEVER use a liquid liner on the lower lash line. Just don't do it!
(picture from hyperfeeds.com)
(picture from checkonbuy.com)
The "Raccoon look" 
Who doesn't love raccoons? They're adorable little creatures with tiny paws and fluffy tails. But do we want to look like them? No.
This look is guaranteed to make your eyes look smaller and the amount of smudging and fallout that comes from wearing this much product is bound to make your skin look like you haven't showered in weeks. So step back, and take it down a notch. When it comes to eyeliner less is definitely more.
(picture from ladyzona.com)
Leaving Gaps
Getting close to your lash kine is scary, no one wants to poke their eye out with a makeup product. But one of the most noticeable mistakes that will make you look like a beginner is leaving a gap between your lashes and liner.
To get around this problem try resting your hand on your cheek to provide stability while applying the product. If you still have a bit of a gap try applying mascara in a zigzag motion as close to your lash line as possible. Some of it might rub off and fill in the gap a little.
(picture from Brightside)