What You Need To Know About Bronzer
What You Need To Know About Bronzer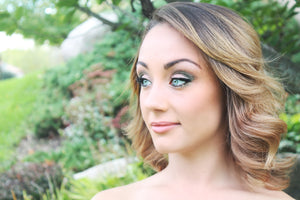 Bronzer is the best way to add a sun-kissed glow to your skin without all the sun damage. We're going to give you the full rundown on which bronzer is best for you and how to use it.
Choosing a bronzer
An important thing to remember when choosing any makeup product is your skin's undertone. There are two easy tests you can do to determine whether you have a cool, warm or neutral undertone to your skin.
First test: Look at the veins on your wrist, what color are they? If your veins look blue then you have a cool undertone. If your veins look green you have a warmer undertone. If you have a mix of the two or are seeing some purple then you most likely have a neutral undertone.
Second test: Still not sure what you are? Try the jewelry test. Think about what kind of jewelry you look best in. Do you lean more towards gold or silver? If you look better in silver jewelry you most likely have a cooler undertone. If you lean more towards gold jewelry then you're probably a warm tone. If you think you have a neutral undertone the jewelry test is a good way to find out if you look better in warm or cool toned colors.
Now that you know if you have a cool or warm undertone its time to choose a bronzer! One of our best sellers is the Mineral Gemstone bronzers. They come in two colors, Gracious and Harmony, so you can get the best match for your skin. The gracious bronzer has cooler undertones while the Harmony bronzer is better suited for warm undertones.
Choosing a brush
Now that you've picked your bronzer it's to talk about brushes. The absolute best brush for bronzer application is our Precision Powder Stipple Brush.
The thin, white bristles at the tip of the brush help apply an even amount of product to your skin while the thicker, black bristles buff and blend the product into your skin. This brush is perfect for everyday bronzer application to add a little glow and dimension to your face.
Bronzer Application
You have your bronzer, you have your brush, now what do you do with it? Apply bronzer anywhere you feel like you need a little definition. The most common place to apply bronzer is around your cheekbones. Start just under your cheekbone and blend up towards the ear. From there blend down towards your jawline and up towards your temple. You can also use bronzer to contour around your forehead, jawline, collarbone and nose. To create an even more sculpted face try an illuminating powder to highlight your cheekbones, brow bones, nose and cupids bow.
Watch our video to see exactly how we apply our bronzer.